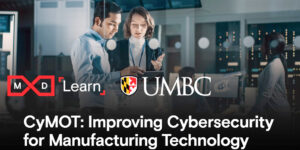 The Cybersecurity for Manufacturing Operational Technology Curriculum (CyMOT) aims to provide current workers with learning opportunities that result in certification(s), giving them the tools necessary to execute careers in cybersecurity in manufacturing and increasing the security of U.S. manufacturers from cyber-attacks. CyMOT's ever evolving content will train the next generation of cybersecurity manufacturing employees and grow with them throughout their careers. We partner with companies in the cybersecurity manufacturing industry to help identify the key skills required to fulfill todays modern cybersecurity job roles and then provide content on our platform to help employees meet their educational requirements. For more information, visit https://cymot.org/.
CyMOT advantage:
Specialized Cybersecurity for Manufacturing – Courseware is designed to provide the skills necessary to protect manufacturers for cybersecurity related attacks.
Technical Skills Necessary for Manufacturing Growth – CyMOT provides the skills to adopt productivity-enhancing Industry 4.0 digital technology in a way that protects form cybersecurity threats.
Training for a More Resilient Industrial Base – The CyMOT platform adapts the best in cybersecurity tools and training to the unique needs of manufactures of all sizes.